HOW TO RETURN YOUR LEASED FORD
At Mossy Ford, we offer many options for returning your leased F-150, Ranger, Explorer, Fusion, Edge, or Mustang. 
For questions, and for more information on how to trade in your lease, please contact us at (858) 247-0059.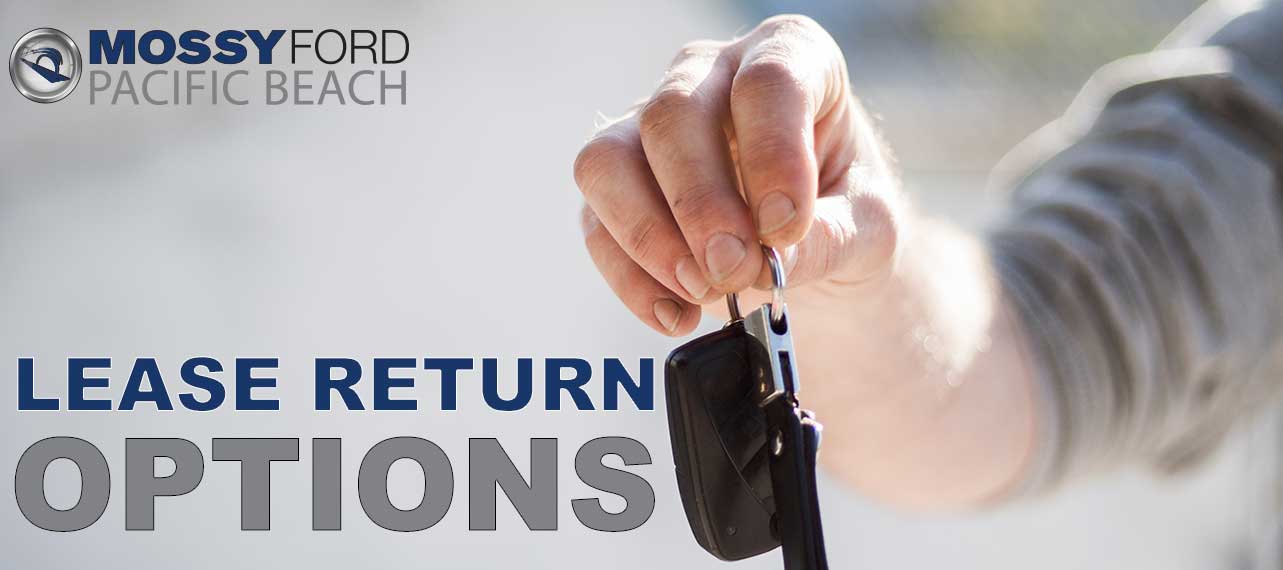 OPTION 1: PURCHASE YOUR LEASED VEHICLE
Fords makes such amazing vehicles that many people choose to buy their vehicle after the lease ends. After all, you maintained and drove the vehicle, so you know exactly what you're buying, at a significant discount off the original price. Our team can assist you with this and explore any other option that might benefit you. Please contact us at (858) 247-0059
OPTION 2: RETURN AND UPGRADE
You can return your leased vehicle and lease a new Ford. Get back that new car smell and enjoy the latest technology and comforts that make Fords so great to drive. Mossy Ford offers the best selection of New Fords in San Diego.  Follow the link below to view our current inventory or, for guidance on all your options please contact us at (858) 247-0059






OPTION 3: EXTEND YOUR LEASE
If you would like to keep your current car but don't want to purchase it, you can contact the bank that your vehicle is leased with. Please give us a call if you need help contacting your bank at (858) 247-0059
OPTION 4: RETURN YOUR LEASED VEHICLE
If you want to turn in your leased vehicle, we can help with that also.  Here are the steps to take:
Give us a call at (858)247-0059 and let us know the best time and date to return your vehicle.
On the day of the return make sure you bring the following items: Toolkit and spare tire (if applicable), All sets of keys (masters/remotes/valet), Owner's Manuals, and Any original equipment on your vehicle at lease inception (radio, headrests, 3rd row seat, tonneau/cargo cover, etc.)
Be advised leasing banks will charge a Lease Termination Fee. You may also be responsible for excess mileage above your contracted terms and any excessive wear and tear. These charges are not levied by Mossy Ford, but rather by the leasing bank. Please also know that you will remain as the registered owner until the leasing bank re-sells the vehicle to another consumer. This process can take several months.